Matt Briner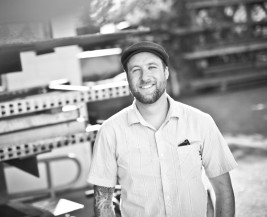 Graphic Designer, Illustrator & Art Director
Skills
Graphic design
illustration
art direction
print
branding
logos
motion graphics
packaging
Photoshop
Illustrator
InDesign
When I first realized the power of good design, I became infatuated with it. I couldn't believe I could actually get paid to make a difference in this world by telling stories with art and creative ideas. I loved it so much I decided to earn a B.A. in design from California State University, Chico. During my studies I had my first official design job as a graphic design intern at KMS Haircare, an international brand, and my hair has never been the same since. While simultaneously working at KMS Haircare and finishing my design program, I learned an incredible amount about production and gained a realistic expectation of how things truly work outside of academia.
After KMS was purchased by a large Japanese corporation and some restructuring happened, I decided to pack the bags and skateboard and head to Santa Cruz, where I was a designer for the skateboard pioneers at Independent Truck Company. Eventually I realized I still had unfinished business with Northern California, and moved back to Redding to work with InHouse Marketing Group, where we created Enjoy Magazine. Valuable years of working with an array of so many incredible people gave me the confidence to start a new chapter as a freelance designer, and I couldn't be happier. I'm constantly inspired by my clients' ideas and drive, and getting to know them and design for them has been a dream come true.
My approach to the creative process isn't typical of the average design firm: whether it's a logo or complete corporate branding, I like to include the client in the process. I have always felt that since your business is a very important part of your life, you should have some say in how we make it look… I'm just kind of weird like that. I truly love to brainstorm with my clients to create the best possible outcome. I don't believe there are stupid ideas; I've learned that ideas that may be seem silly or dumb can spark million dollar concepts, even if there are a few rabbit trails along the way.
Whether your design project is big or small, there's a solution to be discovered that can make a big impact.  Let's create something together.